Why Denmark manager Kasper Hjulmand could be a real coup for the Premier League
Could we see Kasper Hjulmand in the Premier League?
16:12 Wednesday 13th October 2021 - 4 minute read
Kasper Hjulmand's record as Denmark manager is pretty damn impressive.
Since taking charge of his homeland in July 2020 Hjulmand's accumulated 17 wins from 24 matches (70.83% win rate), led the Danes to the Euro 2020 semi-finals, and has now secured a spot at the 2022 World Cup.
In fact, Denmark have breezed through qualifying for Qatar. Hjulmand is the only remaining manager in the European sphere to boast a 100% winning record, having accrued victories in all eight of his matches so far - they are now two wins off a clean sweep.
His troops have fired in 27 goals and are yet to even concede.
He's also won eight of his nine matches since mid-June's thrilling Euro 2020 group stage defeat to Belgium, while Finland is the only other country that's beaten Hjulmand's men - in 90 minutes - since he took over last year.
Denmark won't be amongst the favourites for glory next winter but their current price of 40/1 could well attract a few suitors.
Hjulmand's popularity skyrocketed over the summer, yet the 49-year-old somehow remains one of the most underrated managers in Europe right now. But, for how much longer?
With an abundance of managers thrown into the mix for the imminent Newcastle vacancy, it's a surprise that Hjulmand (40/1) hasn't at least had a mention as a possible candidate, although Danish fans will prefer it that way.
The same could be said back in the summer during Tottenham's search for a new manager, plus Wolves, Everton and Crystal Palace too: there was simply no real clamour for Hjulmand.
While it would be a surprise if he vacated his post as Denmark manager before the World Cup, he should definitely be under consideration for future Premier League vacancies.
"He is a world-class coach and better than anyone I'd seen in my Premier League experiences," former Man Utd scout Tom Vernon, who was Hjulmand's chairman at FC Nordsjaelland, recently told cityam.com.
With the likes of Nuno Santo, Ralph Hasenhuttl, Daniel Farke and others feeling the heat in the Premier League Sack Race, Hjulmand could soon pique the interest of top-flight hierarchies.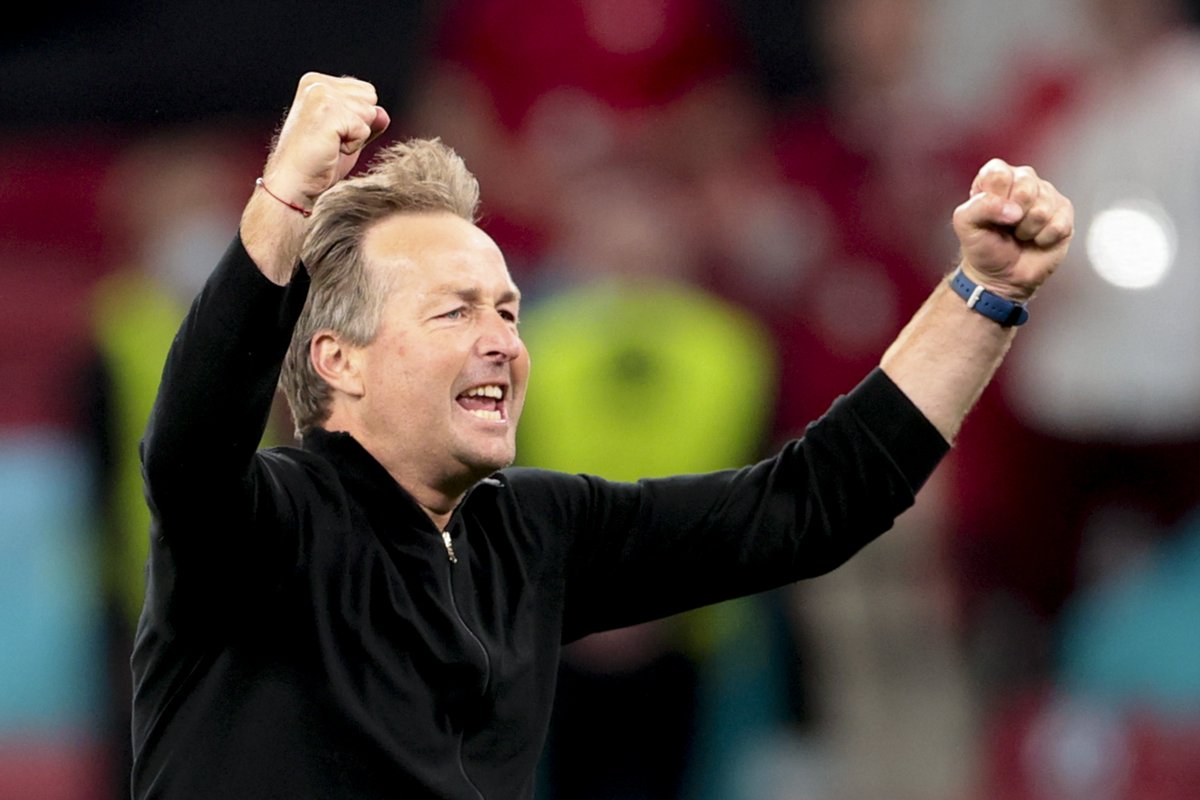 Denmark's Kasper Hjulmand is the only manager still with a 100% winning record in Europe's World Cup qualifiers... 🇩🇰

- 8 wins from 8 games
- 27 goals scored
- 0 goals conceded https://t.co/vsza7kJLJK
In the space of 18 months he's managed to take a Denmark side that had already been cooking along nicely under predecessor Age Hareide, up to the next level.
Hjulmand's implemented an attractive style of football, overseen some dazzling performances, and brought the whole country together to the point that the players and fans now believe anything is possible. He's been described by former players and colleagues as both a 'tactical geek' and a 'motivator'.
In the summer he handled Christian Eriksen's cardiac arrest with admirable dignity, compassion, and empathy. He would then show buckets of class in the aftermath of Denmark's controversial defeat to England by sending the following message to Gareth Southgate:
"I want to congratulate my colleague Gareth. I followed what the FA has done and how he works with the young players, gets involved and how he behaves with the values he has.

"How he represents and communicates is outstanding. Congratulations Gareth, you are doing a great job in a difficult job."
Hjulmand previously conjured up a minor-miracle when he led Danish side Nordsjaelland to their first ever league title in 2012, then into the Champions League group stages where they drew with Antonio Conte's Juventus - a feat which draws comparisons to what Claudio Ranieri went on to achieve Leicester.
We're not suggesting that Hjulmand is going to lift the Premier League trophy anytime soon, however it would be fantastic to see him offered a chance to prove his credentials over on these shores sometime in the future.
But for now, he has a World Cup to win...
Next Newcastle United Manager Odds