The Sack Race's 2021/22 Premier League Predictions
Can Thomas Tuchel claim the Premier League crown?
09:11 Tuesday 10th August 2021 - 13 minute read
As is tradition, The Sack Race's band of writers have been put to the ultimate prediction test ahead of the new Premier League season, which starts on Friday.
Below you'll find their selections for the following three managerial categories...
Title Winner
First Premier League manager to leave
Surprise package
TITLE WINNER
Jack Kitson: Pep Guardiola
I desperately want to be interesting, but how can you look past Man City. After a dodgy start they waltzed to the title last season and they boast an even stronger squad this time around with British record holder Jack Grealish now nestled in their ranks, with Harry Kane or maybe even Lionel Messi set to follow. Regardless of whether those monster moves come to fruition or not, I expected City to claim the spoils.
Should he conquer all before him, Pep Guardiola will bag his fourth Premier League crown, meaning he'll stretch clear of Jose Mourinho and Arsene Wenger and claim second spot as his own behind 13-time champ Fergie.
Simon Lillicrap: Thomas Tuchel
I was so close to picking Ole Gunnar Solskjaer, as United now boast the best back four in the division, but Thomas Tuchel gets my juices flowing. He has proven he has the tactical nous to win big games, especially against Pep Guardiola and this Chelsea side are the reigning European champions. I can see them adding one major signing, perhaps Romelu Lukaku, which could be the difference between them and United in the final run-in. City and Liverpool to make up the rest of the top four.
Luke Hamilton: Pep Guardiola
Impossible to look beyond Man City despite the strengthening of others around them. Jack Grealish has been signed and Harry Kane could follow, meaning they're on the cusp of having unprecedented levels of depth in their squad.
Rob Ford: Pep Guardiola
I can't look past Pep Guardiola's Man City winning the Premier League this season, especially now due to the potential arrival of England Captain Harry Kane.
Last season Guardiola on occasion operated with one of his midfielders in the false 9 position, so adding the most profiling centre forward in the league will add even more firepower to an already terrific team.
Callum Pragnell: Pep Guardiola
It's a boring choice but I simply don't see City being beaten to a second consecutive title over the duration of the season, especially with the signing of Jack Grealish and potentially even Harry Kane. Pep's side were magnificent throughout the most-part of 2020/21 and will be the most feared side in the division once again this time out.
With the technical prowess of the incoming Grealish, Kevin De Bruyne, Ilkay Gundogan and Bernardo Silva (should he remain at the Etihad), the Cityzens' midfield is a frightening prospect, while their options in attack are equally as daunting for the rest of the division without Kane let alone with the Englishman. I predict Chelsea, Man Utd and Liverpool to mount more of a challenge this season, but just don't see them getting the beating of the Sky Blues over the full nine months.
Pete Marsden: Pep Guardiola
You hear the term 'Superteam' a lot when it comes to American sports, specifically basketball, referring to a collection of players within a team that just seems unfair on everyone else. That's what Man City have this year. Tie that in with the fact they've got the best manager in the world, I expect City, Pep Guardiola and their collection of all-stars to romp home to the title, something which the bookies agree on (4/6 favourites).
Jack Porter: Pep Guardiola
Man City. Unless there's some serious substance - and therefore serious repercussions - to continuous allegations of the breaching of financial rules and they're dragged kicking and screaming through the courts, the Man City juggernaut should rumble on to capture their sixth Premier League title of the Abu Dhabi oil-era, with Pep's pet project reaching an incomparable £918million. Also, Jack Grealish.
Anton Eadson: Pep Guardiola
I'm struggling to see how Pep Guardiola's side won't lift the trophy for a fourth time in five seasons. With the addition of Jack Grealish, City have gained one of the most creative players on the planet. The 25-year-old provided 10 assists in just 24 starts for Villa last season and one would expect his already outrageous numbers to improve now that he's in such high quality company.
The further addition of Harry Kane would really make this side one of the best ever in the Premier League on paper. Should John Stones and Ruben Dias maintain their form of last season, City have the ability to go on remarkable runs as they did last season when winning 15 on the bounce. The calibre of player they possess in every position twice over is frightening and should they get out of the blocks quickly, they could be difficult to catch.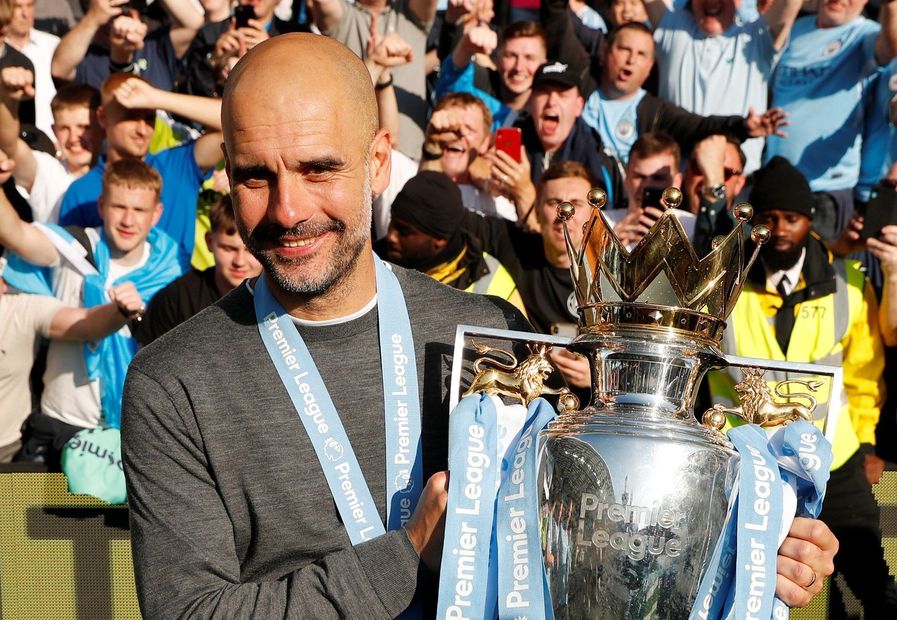 - La Ligas: 3
- Bundesligas: 3
- Premier Leagues: 3

Pep Guardiola has now won 75% of the league titles he's competed for as a manager 🏆🏆🏆

#MCICHE #MCFC https://t.co/3OfeGlkPNq
FIRST PREMIER LEAGUE MANAGER TO LEAVE
Jack Kitson: Xisco Munoz
I hate to say it but Xisco Munoz. I really like him too, such an affable and positive character. Yet he's significantly hindered by the reputation of his trigger-happy owners who won't think twice about firing the trigger should he fail to buzz out of the blocks.
Keep an eye on Ralph Hasenhuttl (8/1) whose Saints side were dreadful from January onwards and have just lost Danny Ings, while Mikel Arteta (12/1) needs to get off to a decent start to avoid early scrutiny.
Simon Lillicrap: Xisco Munoz
The only surprise here is that Watford haven't got rid of their manager before the start of the new season. I'm fairly bullish the other two promoted teams will be okay and can see Steve Bruce making it until Christmas with Newcastle, which doesn't leave too many other options. I'll go for Xisco, the obvious choice, but my outside shout is Dean Smith. Villa have big spending owners, are losing Grealish and if the results don't reflect their ambition, he could be replaced by a bigger name.
Luke Hamilton: Xisco Munoz
He's still an unknown entity, having been appointed in December 2020 and taking charge of 27 games at Watford so far. Couple their underwhelming summer recruitment with a tough October and November schedule and you have a strong case that he will be first to go.
Rob Ford: Rafa Benitez
It was between Rafa Benitez or Xisco Munoz for this one, but I'll have to opt for Rafa considering the negativity surrounding his appointment.
No question regarding his managerial ability, but it was such a strange appointment considering the opposition from the Everton fans.
Now fans are allowed back in grounds, a couple of unfavourable results and the Everton faithful's dismay of Rafa will rub off on that group of players and performances will be affected. I'll be stunned to see him last a full season, which makes the decision of a three year-deal even more unusual.
Callum Pragnell: Xisco Munoz
Xisco Munoz has done a stellar job at Watford since taking over in December, guiding the Hertfordshire outfit back to the top-flight at the first time of asking, all the while implementing an aesthetically pleasing style of play at Vicarage Road. I hope that he is given an ample opportunity to prove his capabilities in the Premier League, although as we have seen countless times in the past from Watford, they have little patience when things start to go south.
The Hornets have a terrible record of hiring and firing managers in quick succession, which gives me little hope in the Spaniards' chances of remaining in the hot seat for too long, especially given Watford are among the early favourites for relegation and could find things difficult from the outset.
Pete Marsden: Steve Bruce
My mind can't be taken away from one man in particular: Stephen Roger Bruce (8/1). To be fair to Brucey, Newcastle ended with a decent run of form last season, seeing them finish in 12th. I for one can't see him lasting the whole campaign however. The lack of signings from the club, the pure disdain from the fans towards himself, and the general toxic atmosphere that can at times surround Newcastle just spells trouble for me. If they start the season off on the wrong foot, I could see Bruce walking or being forced out.
Could Mikel Arteta be the first manager to leave?
Jack Porter: Mikel Arteta
Mikel Arteta. There's no project. Don't 'trust the process'.
The Arsenal rebuild is too big for one man, and particularly one man at the very start of what is hopefully a very long and illustrious career in management for the Spaniard with the luscious lid. He'll be out of the Emirates by Halloween.
Anton Eadson: Bruno Lage
Wolves only won three of their final 13 games in the league last season, with two of those victories being by a one goal margin against sides who were relegated. Nuno Santo has now left for Spurs and Bruno Lage is the man tasked with improving fortunes in The Black Country.
Wolves travel to Leicester City, host Spurs, then visit Man Utd, which to me look like three very loseable games and I'm willing to take a chance on a slow start for Wolves with 14/1 on offer for it to be Bye Bye Bruno as the first manager to leave.
SURPRISE PACKAGE
Jack Kitson: Bruno Lage
Unlike Tottenham, Everton, and Crystal Palace we saw Wolves move relatively quickly in recruiting new manager Bruno Lage. He previously propelled a goal-fuelled Benfica to the Portuguese title and helped take Joao Felix and Ruben Dias to the next level, and developed the likes of Ederson, Joao Cancelo and Bernardo Silva in the club's academy.
Lage will look to transform Wolves into a more attack-minded, high-pressing, and ball-playing outfit; bringing with him fresh ideas and hopefully some excitement. It may take time to implement but it will be intriguing to see how the Portuguese coach performs in his new surroundings as the Midlands club bid to bounce back from a deflating final season under Nuno Santo.
I like the look of them at 5/2 (Betway) to finish in the top-10, while they are priced at 15/2 (Betfred) to be the top Midlands club.
Simon Lillicrap: Daniel Farke
I'm not utterly convinced by Norwich's squad in truth, given the sale of Emi Buendia, but I am totally convinced about Daniel Farke. Norwich are seen as certainties to go down given what they produced last time around but they have progressed since then, and as we saw against Manchester City, a packed Carrow Road can be a huge factor. Billy Gilmour looks like a top signing, Teemu Pukki will still score goals, and Norwich will stay up, which will be a surprise to many. Farke will hopefully emerge from this season with the credit he deserves.
Luke Hamilton: Brendan Rogers
Top-4 Finish (9/2 @ Bet365): This is considered more of a surprise due to the sides they'll be competing against. Leicester's business has been understated this summer, with the Foxes also managing to keep onto their star players once again. I strongly believe Rogers will learn from his previous mistakes and get them over the line this time.
Rob Ford: Patrick Vieira
Potentially a slow burner until these new, young players get familiar with one another, but it seems as if Patrick Viera is building a side that are able of providing the Crystal Palace fans with a more vibrant and eye-catching style of football that they've been crying out for. If everything can gel together relatively quickly then they could be aiming for a top-half finish this season (5/1).
Callum Pragnell: Graham Potter
xG merchants Brighton are a frustrating side to watch. The Seagulls create so many opportunities in the final third and exhibit some tremendous football at times, but their inability to consistently find the net cost them dearly last season. Graham Potter's side battled relegation in 2020/21 but I don't think a repeat performance is on the cards this time around.
With such a talented manager at the helm who has a genuine identity, alongside a talented crop of players to work with, don't be surprised to see Brighton make a surge for the top half in 2021/22, and perhaps even challenge for an unlikely top-seven finish for that elusive Europa Conference League slot.
Pete Marsden: Patrick Vieira
This is more a hopeful shout more than anything, as I love Patrick Vieira as a man and a player. Despite a sketchy time so far in his managerial career, this could be the time he really makes a name for himself.
An impressive transfer window so far with Palace bringing in Guehi, Olise, Andersen and Gallagher, whilst getting rid of deadwood, has given the South London side a real vibrancy heading into the new campaign. Coupled with the ever impressive Wilfried Zaha, and a return of the fantastic Palace support, could see them push into the top half this season.
Vieira always presents himself as a very calm, collected and cool figure, and tied in with Palace's new youthful look, they could be the one's to surprise everyone this season.
Could Patrick Vieira be this season's surprise package?
Jack Porter: Bruno Lage
Following Nuno Santo is an undoubtedly tough ask but the time was right for the conscious uncoupling and Santo's compatriot will have Wolves fans shouting 'Lage, Lage, Lage, Lage' in no time, even if he may not be a long-term prospect for the ambitious club.
Expect the former Benfica boss - and Primeira Liga champ no less - to be a mega, mega white thing, where there'll be so many things to see and do at Molineux, including bagging a coveted Europa League spot.
Anton Eadson: Dean Smith
The sale of Jack Grealish to Man City is sure to be a huge loss for Aston Villa but there's still plenty to be optimistic about for the season ahead. £100m is a phenomenal fee to receive for any player, let alone one you have raised in your own academy and the Villa board look to already be putting it to good use with several notable signings.
Emi Buendia's creative spark will add to their fruitful attack, with the Argentine having scored 15 goals and provided 16 assists in the Championship in 2020/21. Leon Bailey is another impressive signing with no member of the Bayer Leverkusen side having been awarded a higher WhoScored rating last season with the Jamaican contributing nine goals and six assists.
When fit, Danny Ings has become one of the best out-and-out strikers in the Premier League and when looking at the attackers at the club already, they looked well stocked with the likes of Ollie Watkins, Bertrand Traore.
Emiliano Martinez was one of the stand out keepers in the league last season and if Tyrone Mings can keep the defense well organised they look good to improve yet again. Villa finished 11th last season and they have the squad to make the step up and look a reasonable prospect for a top half finish at around 5/4 with more potential transfers still to come.
RESULTS
Title Winner
Pep Guardiola: 7
Thomas Tuchel: 1
Winner: Pep Guardiola
First Manager To Leave:
Xisco Muniz: 4
Rafa Benitez: 1
Steve Bruce: 1
Mikel Arteta: 1
Bruno Lage: 1
Winner: Xisco Munoz
Surprise Package:
Bruno Lage: 2
Patrick Vieira: 2
Daniel Farke: 1
Brendan Rodgers: 1
Graham Potter: 1
Dean Smith: 1
Winner(s): Bruno Lage & Patrick Vieira
Advert Disclaimer
Bettingodds.com is a free online resource which endeavour to provide helpful and useful content and odds comparison to its visitors. Please be advised that Bettingodds.com accepts affiliate commission from the companies appearing on the site, and agreed commission levels impact the location and order in which the companies (and/or their products) are presented on the website. Any ratings that appear on this site is determined by our subjective opinion of the brand but also based on market share and reputation, each brand's conversion rates, commission paid to us and general consumer interest. Company listings on this page don't imply our endorsement. We do not feature all providers on the market. Except as expressly set forth in our terms and conditions, all statements and warranties regarding the information presented on this page are disclaimed. The information, including odds, which appear on this site is subject to change at any time.
#AD Bet £10 & Get £50 in Free Bets for new customers at bet365. Min deposit requirement. Free Bets are paid as Bet Credits and are available for use upon settlement of bets to value of qualifying deposit. Min odds, bet and payment method exclusions apply. Returns exclude Bet Credits stake. Time limits and T&Cs apply.
Bet £10 Get £20 In Free Bets + £10 Casino Bonus
#AD New UK customers (Excluding NI) mobile only. £30 in FREE Bets (FB) as £20 in sports bets & a £10 casino bonus (CB). Min stake £10. Min odds Evs. FB applied on 1st settlement of any qualifying bet. FB 7 day expiry. 1 FB offer per customer, household & IP address only. Payment restrictions. 14 days to accept £10 CB, then active for 3 days. CB 5x wagering & max redeemable £100. Game restrictions apply. Cashed out/Free Bets won't apply. 30 days to qualify. 18+. T&C's Apply. **18+. Prices subject to fluctuation and availability. T&Cs apply
Bet £10 Get £30 In Free Bets
#AD 18+. Play Safe. New customers using Promo code R30 only, Min £10/€10 stake, min odds 1/2, free bets paid as 3 x £10/€10, free bets credited after settlement of first qualifying bet, free bets will expire 30 days after the qualifying bet is placed, payment method/player/country restrictions apply.
Bet £20 & Get It Back As Cash If It Loses
#AD New customers only. Place your FIRST bet on any market at odds of min 2.0 (EVS) and if it loses we will refund your stake in CASH. Max refund for this offer is £20. Only deposits made using cards will qualify for this promotion. T&Cs apply, 18+ begambleaware.org
Bet £10 & Get £30 In Free Bets
#AD 18+ New Customer offer. Place a min £10 bet on the Sportsbook on odds of min 1/2 (1.5), get £30 in Free Bets. Rewards valid for 30 days. SMS verification required. Only deposits via cards will qualify. T&Cs apply. Please Gamble Responsibly.
Money back As A Bonus Up To £40 If Your First Bet Loses + £10 Casino
#AD 18+ begambleaware.org. New customers only. Min deposit £10. Money back as bonus if first sports bet loses. Wagering requirements: sportsbook 3x at min. odds of 1.40 (2/5), casino 50x. Unless forfeited the sportsbook bonus must be wagered before using the casino bonus. Bonus expires 7 days after opt-in. Visit Unibet.co.uk for full T&C's.
Bet £10 get £30 in Free Bets
#AD New customers on mobile only. 7 days to claim and stake £10 minimum bet at odds of 1.5 or greater to qualify. Free, void, cashed out or partially cashed out bets do not qualify. Max 3x £10 free bets credited on bet settlement. Free bets must be used on 4 or more selections with selection odds of 1.3 or greater. Free bets are non-withdrawable, and stake not returned with winnings. 7 day expiry. 18+BeGambleAware.org. T&Cs apply.
£30 Matched Free Bet if Your First Acca Loses + 50 Bonus Spins
#AD New UK customers only. Min Deposit: £5. Maximum Free Bet: £30. First bet on a Football or Horse Racing multiple with 3+ selections. Overall odds: 3.00 (2/1) or higher. Free Bets available upon settlement of the qualifying bet. This is offer is valid for 7 days from your new account being registered. 50 Bonus Spins credited on placement of qualifying Acca bet.50x bonus wagering applies as do weighting requirements, bonus Spins only available on selected games and expires 7 days after being awarded. Debit card deposits only (exclusions apply). 18+. BeGambleAware.org. Bet The Responsible Way. Full terms apply
Bet £10 Get £30 In Free Bets + 100 Free Spins
#AD 18+ New customers only. Opt in, bet £10 at odds 2.00+ within 7 days, no cashout. Get 3x £10 Free Bets, set events at odds 2.00+. Plus 100 Free Spins on Big Bass Bonanza, no wagering. Free Bets and Spins expire in 7 days. Card payments only. T&Cs apply. Please gamble responsibly.
Double the odds, any sport, any bet, any odds!
#AD 18+ begambleaware.org Only valid for new registrations to Grosvenor Existing members do not qualify, Bet must be placed using real money in combination with the Odds Boost Token, Offer applies to Sport bets only. Max stake is £10. Each way bets are a maximum of £5 each way (£10 total). Customers have 60 days after registration to use the Odds Boost token. T&Cs apply.
100% Profit Boost up to £100 (Mobile Only)
#AD New UK customers only. Claim by placing a min deposit £10 via "My Offers" page within 30 days. Skrill/Neteller deposits excluded. 7 days to stake max £10 in-play. Max. extra winnings £100.T&C's apply, 18+ begambleaware.org
Bet £10 Get £10 In Free Bets (APP Only)
#AD New UK, IE & Malta customers only. Min £10/€10 first deposit using Debit Card. Place a bet of £10 at min odds of 1.5. Free bets expire in 90 days. Full T&Cs apply. 18+. BeGambleAware.org, T&Cs apply.
Bet £25 get £50 In Bonuses
#AD Place a qualifying £25 fixed odds bet at odds of 1/2 or greater and get £50 in bonuses 5 x £5 free fixed odds bets, 4 x free £5 spread bets + 50 free spins on Starburst. Qualifying bet cannot be placed in-play or cashed out early. T&Cs Apply. 18+
begambleaware.org
Bet £10 Get £40 in Bonuses
#AD New 18+ UK customers only. Register using the promo code WELCOME40, deposit and place first bet of £10+ on Sports (cumulative Evens+) within 7 days of registration. First bet must be on Sports. £30 in Free Bets and £10 in Free Spins (50x20p) credited within 10 hours of bet settlement. Free Bet stakes are not included in any returns. Bonuses have a 7-day expiry. Payment restrictions apply. SMS verification and/or Proof of I.D and address may be required. Full T&Cs apply.
#AD New customers only. 18+ begambleaware.org 1st Deposit, Min Deposit: £10, max £15 bonus, valid for 14 days, bets must be placed at a min. odds of 1/1 (2.00) or greater and be settled within 14 days of placement.T&C's apply.
#AD 18+ begambleaware.org, Welcome Bonus: This offer is for new customers only and is available once per household. Max. FreeBet amount: £10 Minimum Deposit and wagering on sport to activate the Free Bet is: £10 void/cancelled or cashed out bets do not count towards wagering to activate the free bet. Offer valid only to customers making a first deposit of £10 or more. T&Cs apply.
#AD New customers only, welcome bonus: 1st deposit, min deposit: £10, max £20 free bet valid for 14 days, bets must be placed at odds of 1/1 or greater and be settled within 14 days of placement. system bets are not eligible. Neteller, Skrill, and PayPal are not eligible. , 18+ begambleaware.org
50% Up To £50 Welcome Bonus
#AD 18+ begambleaware.org; New bettors get 50% of deposit up to £50; Once per household; Min deposit £15 (no Skrill/Neteller); Wager a total of 8 times deposit + bonus, with max qualifying bet stake equal to your initial bonus amount; Bonus expires after 60 days; Min odds of 4/5 on singles, or 2/5 per leg for acca; Some bet types excluded; See full terms.
Bet £10 & Get £30 In Free Bets + £10 Bonus
#AD Promo code: 30FB • Min deposit £10 • A qualifying bet is a 'real money' stake of at least £10 • Min odds 1/2 (1.50) • Free Bets credited upon qualifying bet settlement and expire after 7 days • Free Bet stakes not included in returns • Casino Bonus must be claimed within 7 days and expires after 14 days • To withdraw any winnings from the Casino Bonus, wager the Bonus amount 40 times within 14 days • Withdrawal restrictions, payment methods, country & Full T&Cs apply. 18+ & Begambleaware
£35 Free Bet + 10 Free Spins
If your account has Sportsbook losses at the end of your first day's betting, QuinnBet will refund 50% of your losses as a Free Bet up to £35 (min 3 bets) Plus 10 Free Spins. Even if your account is up, you're guaranteed a £5 Free Bet Plus 10 Free Spins provided you place at least 1 bet of £10 or greater at the minimum odds. T&Cs apply | 18+ New UK Customers Only | BeGambleAware.org